E Liquid Bottle, PET
Description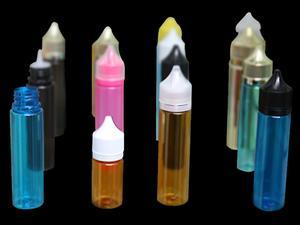 The E-liquid bottle is made of Polyethylene Terephthalate (PET) using blow molding technology, which features a lightweight design, high transparency and good impact resistance. The PET E-liquid container can meet the requirements of liquid and cosmetics packaging.
We offer various bottle caps including Polyethylene (PE) and Polypropylene (PP) material for the matched E-liquid bottle based on customer preference. The capacity of E-liquid bottle ranges from 3ml to 200ml.
We now have a large number of inventories available, please contact us if you need specific sizes or quantities.
---
---
Certification
PET E-liquid container have passed the environmental-friendly test of FDA, RREACH and RoHS conformity, and accords with ISO8317 and CFR1700 standard.
Package Contents
Clear E-Liquid Bottle-PET+Plug+Tamper-Evident cap
Clear E-Liquid Bottle-PET+Plug+ Child proof cap
Color and Printing
In addition to our large E-liquid bottle inventory, we also offer a full-service packaging solution. There are multiple printing options including the process of silkscreen, gild bronzing, labelling and the customized colors for bottle, cap and plug.
TONBAY is a professional manufacturer of various types of plastic bottles which mainly be used for e-liquid, lotions, perfumes, pharmaceuticals, etc. With a wealth of experience as a plastic bottle manufacturer, we can provide high quality services, including package design, mold manufacturing, injection molding and blow molding for various types of plastic products efficiently. In addition, the personalized technology solutions for printing, labeling and hot stamping are also available according to the customer's individual requirements.