PET Plastic Bottle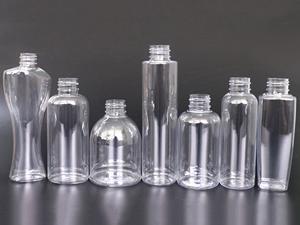 We can manufacture Polyethylene Terephthalate (PET) containers used for a variety of purposes like our essential oil bottle, lotion bottle, or sprayer package according to the preferences of customers.
The PET plastic bottle is popular for its clarity, high barrier property and recyclability. Our PET is BPA free, and made from special grade of resin which safe for packaging food and beverage.
Feel free to browse through our catalogue, mind our minimal unit for every order, and email us your needs and preferences.
Shape
Boston Round Plastic Bottle, Cosmo Round/Bullet Plastic Bottle, Short Round, Cylindrical, Square, Oval, Irregular, Plastic Foaming Pump, Plastic Pump Spray Bottle, Foam Pump Bottle with cleansing brush, dropper bottle, plastic spray and other shapes.
Volume
3ml ,5ml ,10ml ,20ml ,30ml ,40ml ,50ml ,60ml ,70ml ,80ml ,100ml ,120ml ,150ml ,160ml ,200ml ,250ml ,300ml ,400ml ,500ml, 1000ml and more.
PET plastic bottle neck size and matching cap/trigger sprayer
Regular Neck Diameter: 18Din ,20/410 ,24/410 ,28/410, or neck with a higher finish 18/415 ,20/41 ,24/415 ,28/415
Various options of cap and closure methods are available flip top cap, disc top cap, screw cap, childproof cap, push pull top cap, twist off top nozzle cap, aluminum cap, many types of trigger sprayer and lotion pump for different purpose.
Color: solid color, transparent color, matte finish or sand blasting.
Additional Treatment: silkscreen, hot stamping, spray painting, labeling
PET Bottle Mold Customization
If your preferences were not mentioned in the description above, we also provide mold making service, under the condition of minimum order of ten thousand units, the process will take around 25 to 30 days.
TONBAY is a professional manufacturer of various types of plastic bottles which mainly be used for e-liquid, lotions, perfumes, pharmaceuticals, etc. With a wealth of experience as a plastic bottle manufacturer, we can provide high quality services, including package design, mold manufacturing, injection molding and blow molding for various types of plastic products efficiently. In addition, the personalized technology solutions for printing, labeling and hot stamping are also available according to the customer's individual requirements.