Plastic Jar (PET / PP / PS)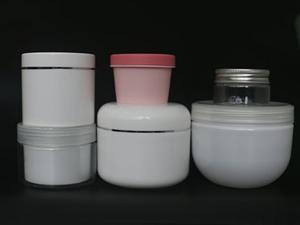 Tonbay manufactures plastic jars made from PP, PET and PS materials. PET plastic bottles are known for their transparency and durability, making them an excellent choice for facial cream, cosmetic cream and other products. PP is less transparent, but features a better flexibility than a PET bottle, making it ideal for use as a shampoo bottle. PS plastic is transparent, and resembles glass. It is also hard and brittle, making it applicable to holding cosmetic cream, nail polish and other products.
---
---
Shape
We supply single wall PP plastic jars, straight sided PET jars, double wall PET jars and PP liners, and single and double PS jars.
Volume
3g, 5g, 8g, 10g, 15g, 20g, 30g, 50g, 60g, 80g, 100g, 120g, 200g , 220g, 250g, 300g, 400g, 500g and more
Color
Custom, or spray paint/ electroplating
Printing Option
Silkscreen, stamping, labeling
Mold Customization
If the products listed above do not meet your needs, we do offer mold customization services with a minimum order of 10,000 units. The mold making process takes about 25 to 30 days, and we offer 3D design confirmation before we begin production.
TONBAY is a professional manufacturer of various types of plastic bottles which mainly be used for e-liquid, lotions, perfumes, pharmaceuticals, etc. With a wealth of experience as a plastic bottle manufacturer, we can provide high quality services, including package design, mold manufacturing, injection molding and blow molding for various types of plastic products efficiently. In addition, the personalized technology solutions for printing, labeling and hot stamping are also available according to the customer's individual requirements.